Initially, users were hesitant about iOS 15, but Mixpanel's measurements suggest that acceptance of the new system is growing.
Apple made its latest mobile operating system, iOS 15, available on September 20, bringing some new features. Despite their earlier announcement, there didn't seem to be much of a drive to install, with iOS 14 being upgraded by many more people 24 hours after its release, for example.
However, there is a change in iOS 15 as well. According to the latest Mixpanel data, users have now installed iOS 15 on 20 percent of compatible phones (iPhone 6s and later), knowing (or even not guessing) that they are already here. There is no going back.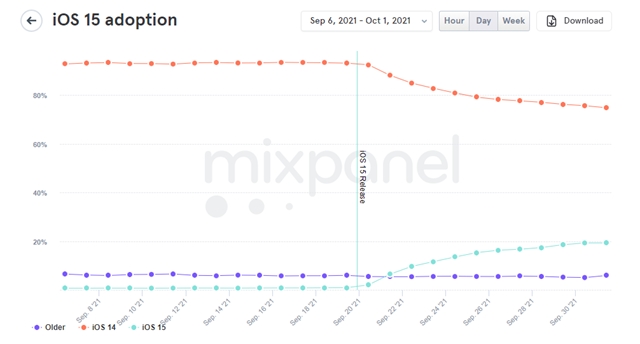 And yet, there will surely be someone who regrets the update, as, as with all current operating systems, iOS 15 reveals bugs during mass use that were not noticed during testing. For example, a false warning about whole storage after the installation, or that it doesn't fit well with Spotify (or Spotify with it),  gets into trouble with AirPods Pro wireless earphones, and even a security researcher has proven that the system can be hacked.
However, the good news is that Apple made iOS 15.0.1 available early Friday night, which offers solutions to several problems.