Is it possible to upgrade to Windows 11 on your computer? Run this application, and it will tell you everything you need to know
Microsoft has fixed and released an application that will tell you if your computer running Windows 10 can be upgraded to Windows 11 shortly.
In a week and a half, the top-to-bottom operating system, Windows 11, will replace Windows 10 and be introduced on October 5. This system will be presented on new devices, and existing Windows 10 machines will be updated promptly. Unfortunately, not all machines because Windows 11 is highly picky about hardware.
Of course, how would a user know whether or not his computer was running the new OS? Microsoft was well aware that a so-called PC Health Check program was created months ago to assist users in determining whether their current Windows 10 system could be updated to Windows 11? This application is quite helpful. Let's not forget that Microsoft has briefly pulled it in response to reasonable complaints, promising to correct it and re-release it later.
The Redmond behemoth has also kept its word, updating the app to include more information about upgrading to Windows 11 and discussing why your computer might not be able to handle the new operating system.
A 64-bit CPU with at least two cores and a 1 GHz speed, 4 GB of RAM, and 64 GB of internal storage is required for Windows 11. There's also the TPM 2.0 feature, which, if supported, must be enabled via BIOS settings. Other requirements exist. However, devices capable of meeting the conditions above are likely to do so.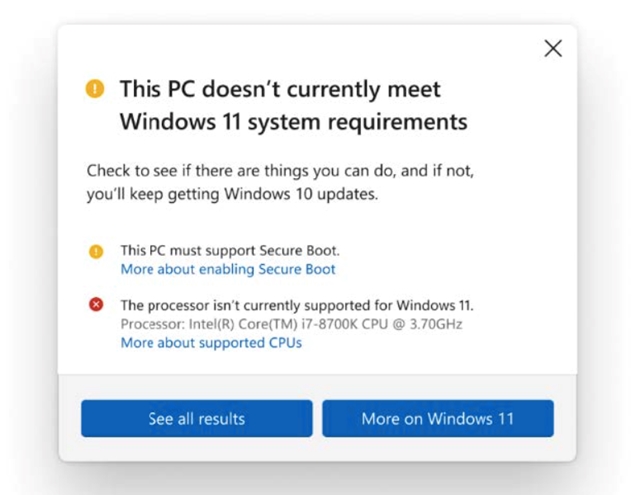 Microsoft has become more lenient in CPUs, and we may now upgrade to Windows 11 using old Ryzen processors. The scenario will be different if someone utilizes an earlier processor. Windows 11 is not supported by the sixth-generation Core.
While some may attempt to change the file on the installation disk, Microsoft has warned that doing so may result in system performance and user experience issues. Furthermore, data gathered as part of the Windows Insider program raises dramatically the risk of "Blue Screen of Death" issues on PCs with unsupported hardware.
But you don't have to worry about all of this since the application (which can be downloaded from the Microsoft Windows 11 information page if you scroll down) takes care of it: it determines whether your computer can run Windows 11. XDA Developers have already published a comprehensive list of compatible devices.
Of course, it's hardly a catastrophe, even if someone's machine cannot run Windows 11. Windows 10 is also a solid operating system, and many new devices will ship with Windows 11 preinstalled.