This laptop stays on for 24 hours on a single charge
Dell has introduced its latest Latitude machines. The models in the Rugged portfolio are designed for particularly extreme conditions: the company promises to withstand extreme temperatures, constant vibrations, dust, and high humidity.
The new Dell Latitude 5430 Rugged and Latitude 7330 Rugged Extreme are laptops that stand their ground on oil rigs or battlefields, Dell said in a press release. Presumably not because the company wants to sell the machines exclusively to this narrow audience, but only to show how durable the new models are.
Laptops that can be requested with 11th generation Intel Core processors – even with the vPro version – can order wifi six and 5G mobile internet connection, so they are also capable in the field. According to the manufacturer, their great advantage is that they can be read in direct sunlight, with a touch screen with a brightness of up to 1400 nites, which can even be operated in gloves.
Dell said the new models would run for 24 hours on a single charge. This was measured using MobileMark 14 performance tests by company experts, who, of course, note the actual battery life from this screen brightness, the number of applications running concurrently, and extreme environmental conditions. Fast charging will be attractive when the battery is low, with the Express Charge Boost function achieving up to 35 percent charge in 20 minutes.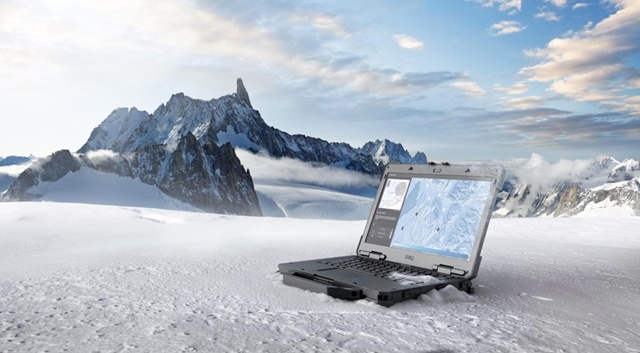 Security in the new Dell Latitude 5430 Rugged and Latitude 7330 Rugged Extreme laptops is ensured by TPM 2.0 ControlVault technology authentication. Integrated cryptographic keys and an optional touch and non-touch SmartCard reader and fingerprint reader provide additional protection.
The manufacturer notes in a statement that the two new laptops will be Dell's first two devices pre-installed with Windows 11. To enhance system performance, the new Rugged laptops also come with Dell Optimizer, software based on artificial intelligence and machine learning that optimizes performance for use.
The Dell Latitude 5430 Rugged laptop screen is 14 inches and weighs 1.97 kg. During the crash test, it was not damaged when dropped from a height of almost one meter, and the level of protection against intrusion is IP53, which means it is highly dust and water-resistant, the company said.
The 13-inch Dell Latitude 7330 Rugged Extreme was dropped from 1.8 meters without damage during the crash test and is rated IP659, making it particularly dust and water-resistant.
Dell's new laptops will be available worldwide from December 9, 2021. There is no news about the goods yet.